Once you set foot in The Place to B&B, you are in an Anglo-Saxon world. You become the focus of our 3-day English course where each session is adapted to your level of English as well as to your aims and interests. A short, stress-free assessment of your speaking abilities in English (in the form of a brief, guided conversation, either online or in person) will enable us to gather the information we need beforehand to adapt this training course to suit you.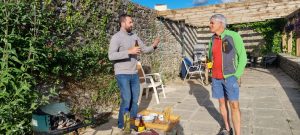 Our qualified teachers from the UK, America or Australia will guide you through a range of stimulating language learning activities from morning right through until the evening. Our courses put speaking as a priority but we pay careful attention to correction in order to help you progress. At The Place to B&B we serve delicious meals which you can enjoy in conversation with your teacher and, who knows, perhaps some surprise guests…!
After a long, busy day of learning English you'll enjoy a good night's sleep in one of our luxuriously comfortable rooms, each one with a gorgeous view of Huelgoat lake.
English learning that is ideally suited to YOU.